Jackpine Home Co.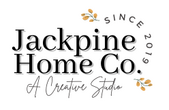 Oh hi there! Welcome to Jackpine Home Co.!

Hi, I'm Dona. and I started my small business in the fall of 2019. I never meant for it to be as big as it is now though. You see, my wonderful husband bought me a Cricut machine the year prior and it sat mostly unused because I was overwhelmed by it. Not sure what finally got into me, but on a whim I opened an online shop, not really expecting much. So it took me by surprise when I went from nothing to a full time income in the matter of a month. Mind. Blown! I just sort of figured things out as I went because I had to.
Since then, thanks to the support and help from my family, I have steadily kept growing. One machine turned into two, in addition to my newly added laser. And one little corner of one little room has blossomed into us currently converting the garage into Jackpine Home Co.'s workshop.
I feel so lucky to be able to contribute financially to the household while getting to be home with out two girls and homeschool them. On top of that, I LOVE what I do! The best part of owning a small business is that I am the one calls the shots and makes all the decisions. I get to create and make. It's not easy by any means, but it's perfect for me.
When I'm not manning the laser or packaging boxes, you can find me wandering the aisles at Target (haha!) or in my garden hanging out with my kiddos and my chickens.
Thank you for being here and sharing in this journey with me!